Normally a thermostat use to be a very simple element just opening and closing a circuit in order to switch on or off a heating or air conditioner. But nowadays we look for a more "intelligent" control in order to reduce consumption but without losing any bit of comfort. It is not enough to switch on or off the heating at programmed time, we expect the system to detect our presence and how far we are from our home and, of course, remote control through internet.
The most advanced elements are developed in United States and they follow a standard not always directly applicable in other countries. Anyway it is possible, thanks to a simple adaptation, to be used in any country allowing the use of any model and provider.
The first requirement is the power supply as it is needed 24 volts AC. Normally there is no transformer or capacitor and there is directly a rectifier. Then it is possible to use a DC power supply as well. In this case we will use the Honeywell RTH6580WF thermostat.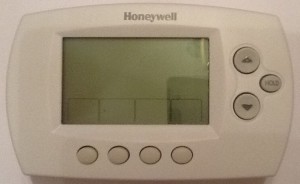 This thermostat allow internet remote control through a wifi connection.
The backpannel is shown in the following picture.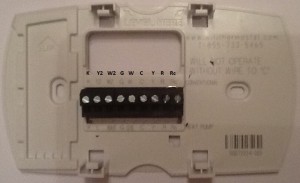 Power supply mention before is connected to connector "C" or common and connector "R". For heating and cooling there are two specific connectors: Rh (heating) and Rc (cooling). These two connectors are not present always. In this case it is only Rc and we assume Rh is connected internally to R. Anyway Rc use to be connected to R as well. In this case there is an external connection between these to connectors. The following picture show the electric diagram.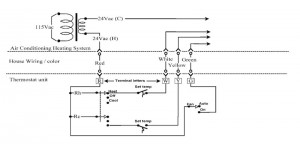 Thermostat works in the following way:
R -> G          Circuit closed to force highest fan speed, open for automatic fan speed.
Rh -> W       Circuit closed for heating
Rh -> W2    Circuit closed for extra heating (not always used)
Rc -> Y         Circuit closed for cooling
Rc -> Y2       Circuit closed for extra cooling (not always used)
K                    Not used
As indicated above R, Rh and Rc used to be connected internally or externally.
Normal heating systems are controlled by two wires. Heating is activated when these two wires are connected and deactivated when there is an open circuit. But this thermostat apply 24 volts in order to activate it. The best method is to use a relay, coil is connected to connectors "W" and "C", relay normally open circuit is used to manage heating.
In our example the following picture shows the previous installation with a simple thermostat.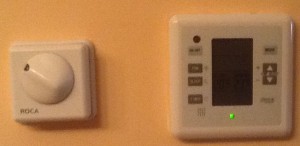 And the needed elements for adapting the new thermostat.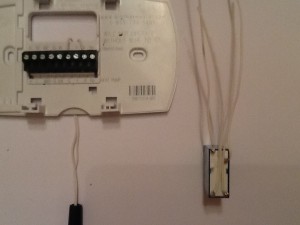 Image shows an external connector for external power supply connected to "C" and "R". It is better not connecting directly but using an intermediate connector as shown in the figure. This power supply is applied directly to the relay. As AC relays are more difficult to find it could be possible to use DC power supply as  thermostat allow it and a wide voltage range. Power supply could be any 24 volts one as thermostat consumption is low. The lower relay connections are the coil and it should be connected to "C" and "W". Upper relay cables are the normally open circuit.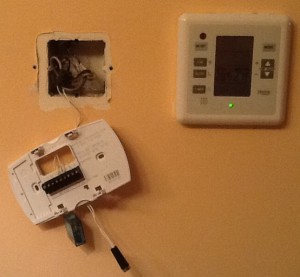 The following picture shows the final result.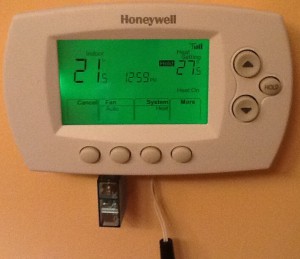 Don't hesitate to add comment to request any additional information, I hope useful for you.