After all published information about BitCoin and all articles explaining how it works the first questions coming to our mind are: Well and, how I get BitCoins? Where could I buy BitCoins? How could I manage them? In this post we would try to answer all these questions.
First question: Where could I buy BitCoins? There are thousand of sites where buying BitCoins but, Which one is a reliable one? We could check the most important ones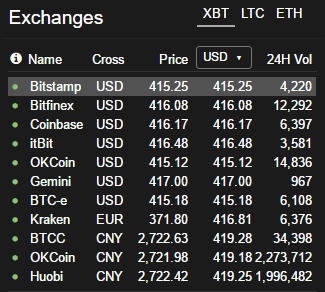 Well, it looks like these ones could be the most reliable ones. Anyway let's check more.
Let's prepare a table with additional information.
Site
Country
Volume
KUSD
t
h
e
b
l
o
g
c
h
a
i
n
.
c
o
m
b
i
t
c
o
i
n
x
.
i
o
9
9
b
i
t
c
o
i
n
s
.
c
o
m
B
i
t
r
e
v
i
e
w
.
c
o
m
C
r
y
p
t
o
c
o
m
p
a
r
e
.
c
o
m
Coinbase
USA
219
A+
95%
5 stars
5 stars
Kraken
USA
39
A
Rank 3
80%
4,5 stars
5 stars
Local
Bitcoins
Finland
62
A
Rank 1
4 stars
4 stars
Bitfinex
British Virgin Islands
471
A
4 stars
OKCoin
China
Rank 1
B+
4 stars
BTCc
China
Rank 2
B+
4 stars
BTC-e
Not
known
143
B
78%
4 stars
Bitstamp
UK
172
85%
3 stars
OKCoin and BTCC are number one and number two but boty in Yuans. They manage USD as well but with a low volume. Opinion from several web pages is summarized in above table.
Our election is finally Coinbase because volume is one of the highest, good feedback and it is located in civilized country. So we access Coinbase web page and create an account.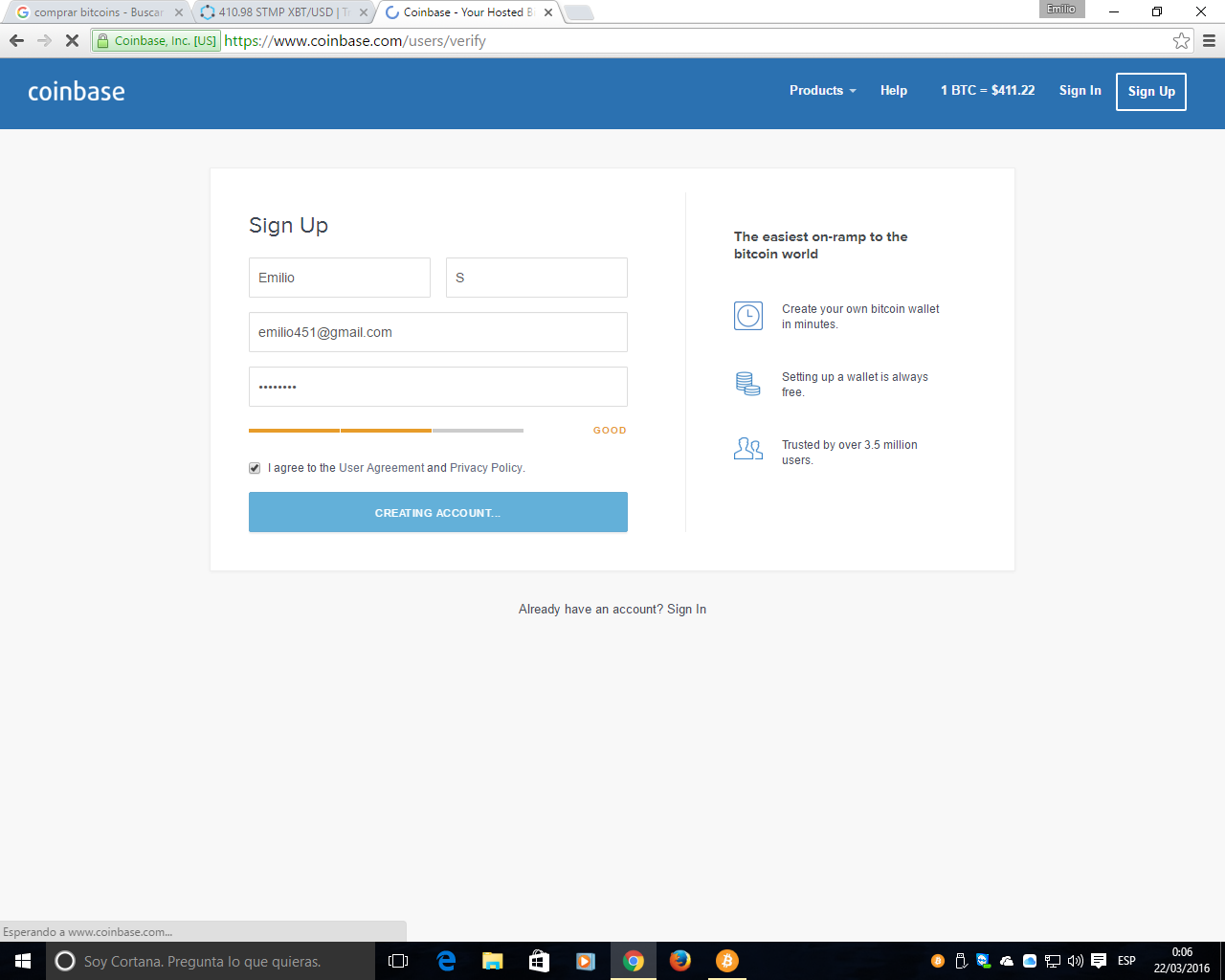 We should introduce our personal information including email address and mobile phone number (for security purposes). Additionally we should include the image of any official document: passport, driving license or identity card.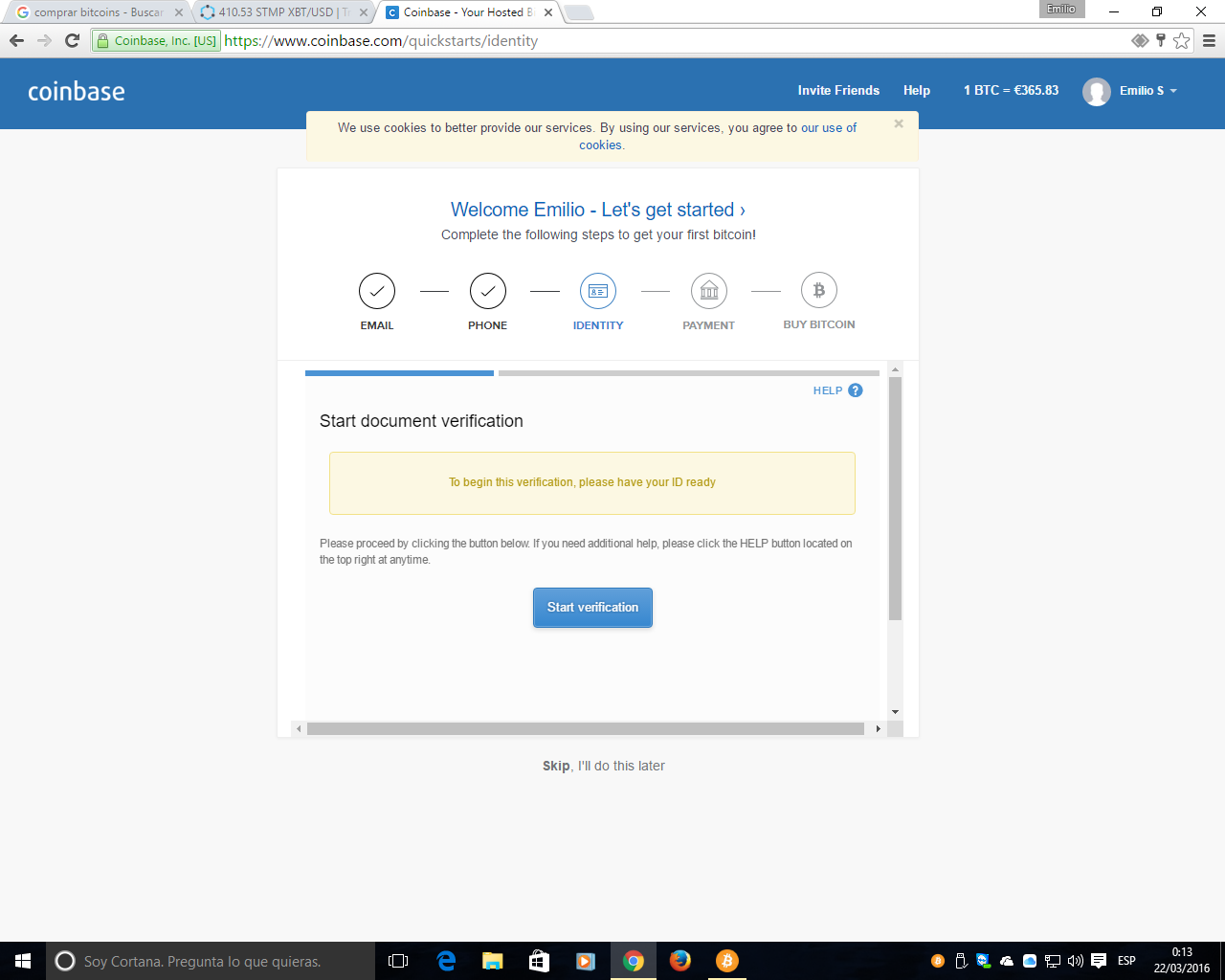 This is the most critical step as it is not considered to send an image file. It is necessary to use the computer camera and Coinbase system check this image is related to a real document. In our case computer camera had not enough resolution and it didn't work. We had to identify using Coinbase application in a SmartPhone.
The process was to leave pending document verification (necessary to do operations but not for creating an account) and install Coinbase application for Android, introduce username and password and execute verification process. Image captured by mobile camera had enough resolution for identification purpose.
Once validated our account we passed to the next step: buy our first BitCoins. Using a Visa Credit Card we bought 10 EUR.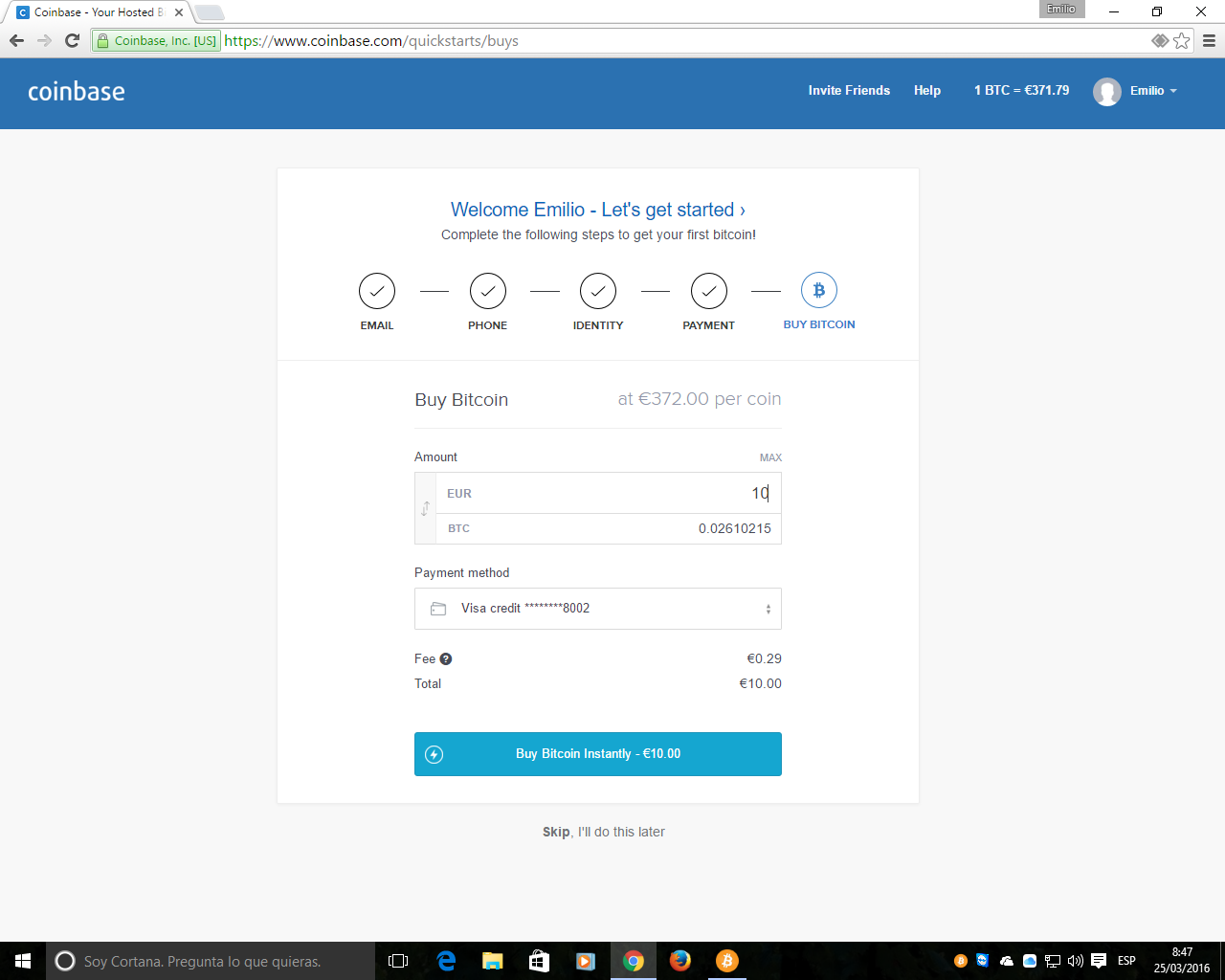 Coinbase charged 0,29 EUR comission fee and finally we got 9,71 EUR in BitCoins, total 0,02610215 BTC. BitCoin system allows up to 8 decimal digits. This transaction assigning 0,026 BTC to us was distributed to the whole BitCoin network.
One important point to consider is the address associated to this transaction. This address is in a wallet guarded by Coinbase and associated to our account in Coinbase.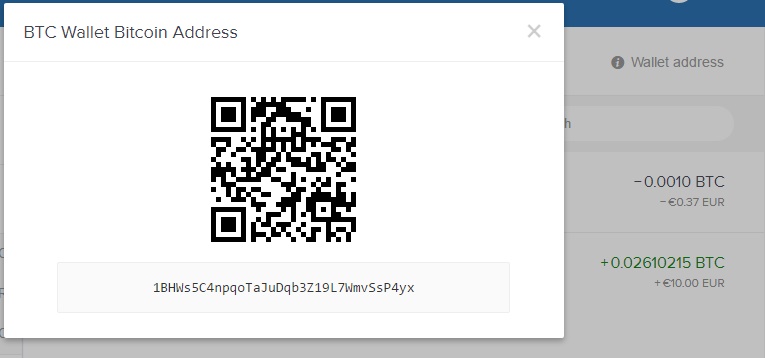 This is our address and the one we have to provide in order to receive payments in BitCoin network. Most applications allow to provide the image over the address instead in order to facilitate payments as BitCoin address is a really complicated character chain.
Once we haver our first BitCoins we could start using them, but this will be in the next post.