OpenSignal is the kind of application which it doesn't safe our life but it is really interesting to have in our SmartPhone. In one way this application is very useful to learn about wireless networks both mobile and Wifi. In other way this application helps us to choose the best operator in our home, office or any place we use to be.
OpenSignal provides information about the antennas around us and the coverage offer by them. This information could be the one of the area around us or any area in the world. OpenSignal is supported by a huge database with information about most mobile operators and millions of Wifi access points.
But, What is the source of this information? All information shown in our application is sent as well in order to update mentioned database continuously updated with millions of applications running around the world. We shouldn't worry about our privacy because personal information is not sent. Anyway it would be useful to revise privacy page to have a clear idea about what is sent and what is not sent.
Coming back to this application main page is the following:
Advanced mode is recommended to add accuracy and it is not complex. Previous screens show the following information:
Operator our phone is connected and technology used.
Coverage level and an arrow pointing to the antenna giving coverage to our phone.
Packets delay. This information is important for VoIP or VoLTE.
In case of Wifi connection the network our phone is connected to.
Pressing the antenna button in the left we could see mobile network antennas around us.
A line is shown connecting our phone and connected antenna in the picture. Pressing the Wifi button in previous picture a similar information is shown with Wifi access points around us.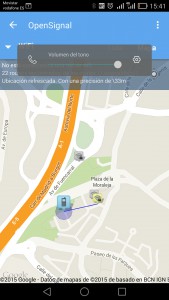 Only nearest access points with enough power to be detected are shown.
But coming back to main screen we could use the following functionality: Speed. Speed functionality allow us to do a speed test in order to analyze our connection quality.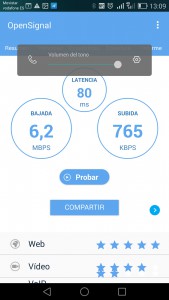 Pressing test button downloading and uploading speed is tested and latency as well. Additionally to absolute values several services are scored: Web browsing, Video (YouTube) and VoIP or VoLTE.
Last but not least coverage functionality. Our application shows coverage maps of the area around us or any area in the world.
Any operator and technology are shown but it is possible to filter showing only specific operator or specific technology. One interesting option is operator score in our area.
This option allow us to choose the best operator in our area and important areas for us like our home or office.
OpenSignal has much more functionalities but we think we have summarize the most important ones. As mentioned above it is a really interesting one to know and understand wireless networks used every day.