First of all we should express that, in our opinion, Brexit is an unfortunate event. Anyway this event has allowed us to check the robustness of the different currencies and investments considering the effect in each one. In this case we will focus in two of them: Gold and Bitcoin.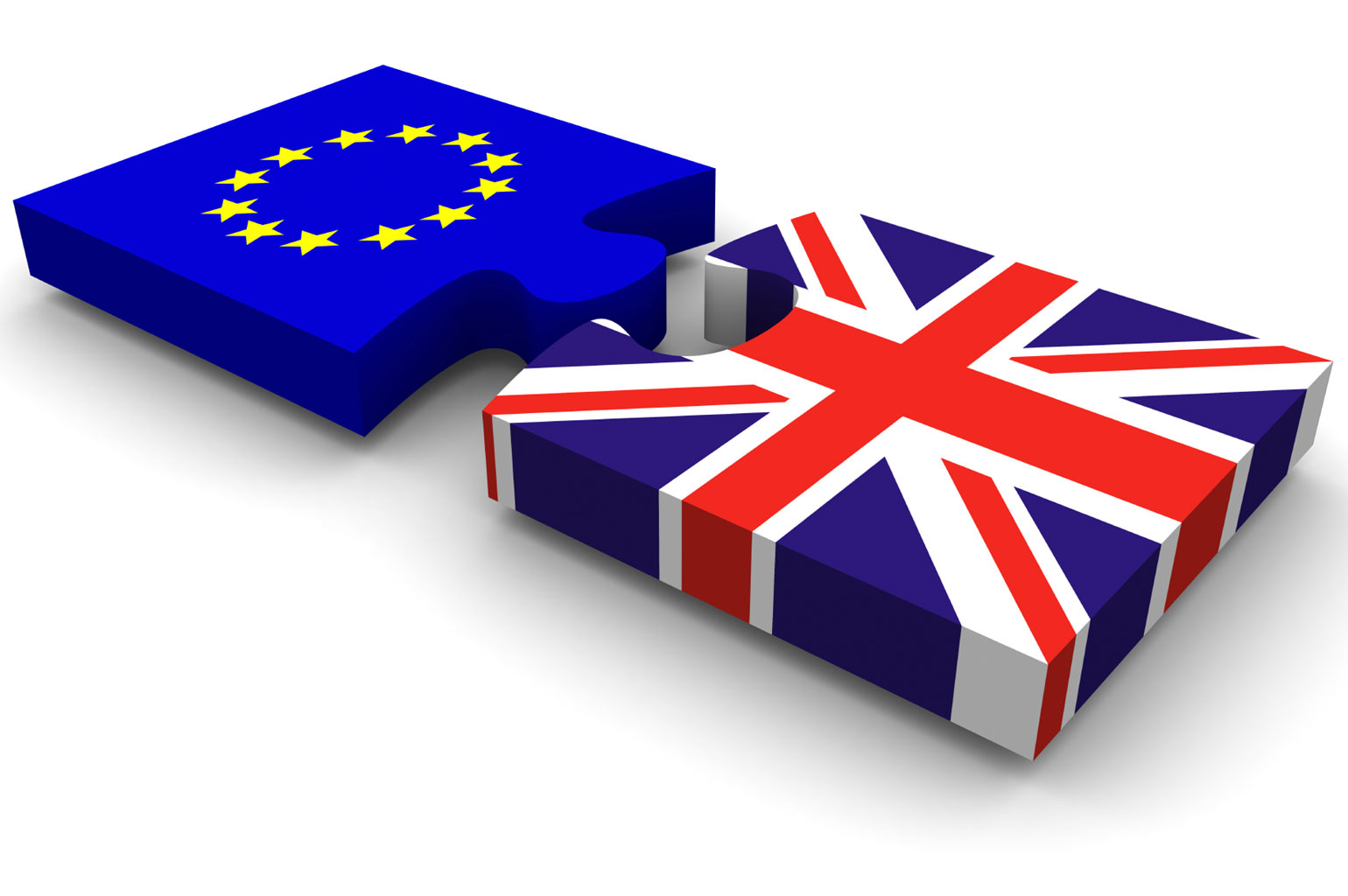 Nowadays both currencies and investments have a value mostly pending on market confidence and, in this kind of events we could check if the confidence is high (value grows) or low (value decrease).
We could take advantage as well of a real investment we did several months ago in order to check if graphics correspond with real.
First to check is the Brexit effect on gold price. We have compared it with Euro as we used this currency for the investment we did some months ago. Anyway this effect is close similar if we consider USD.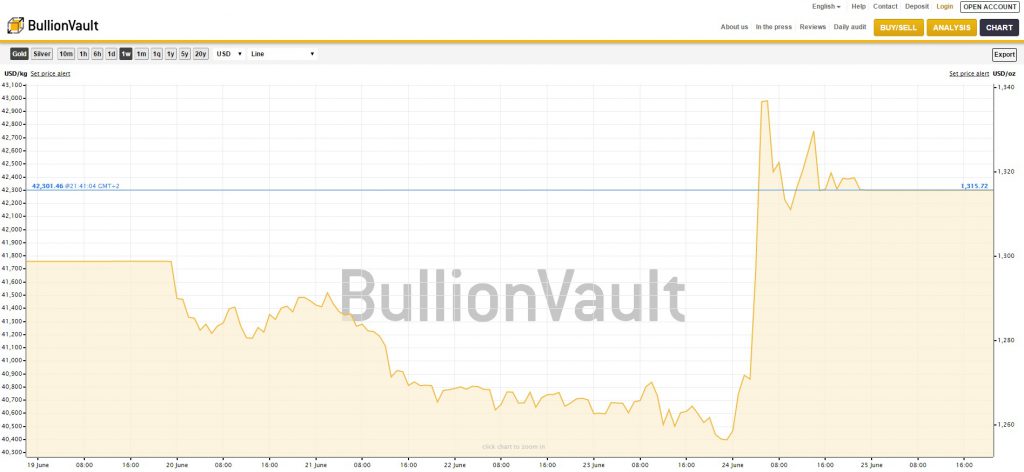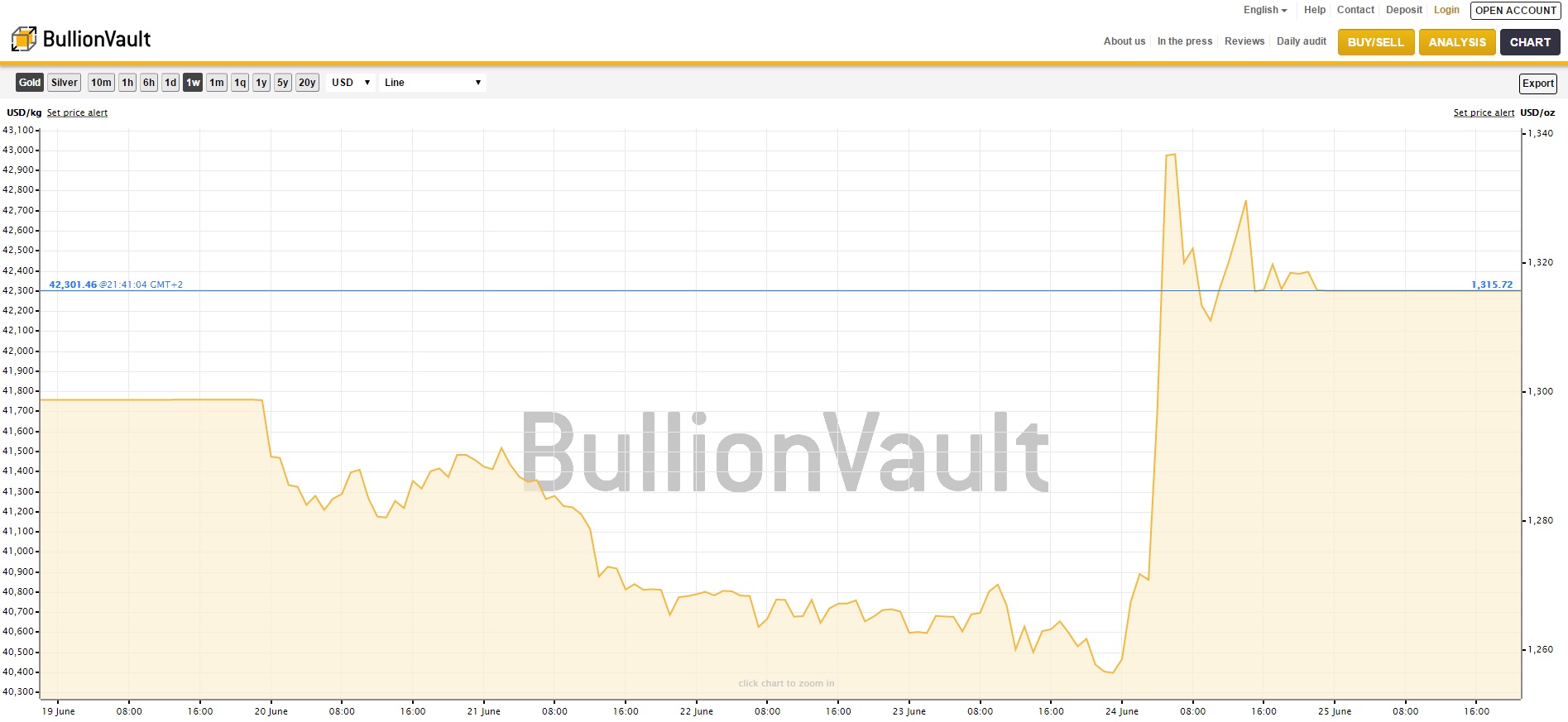 As expected there is an immediate effect and gold price rise as gold investment is the most confidence one and money goes to this investment. But let's check BitCoin.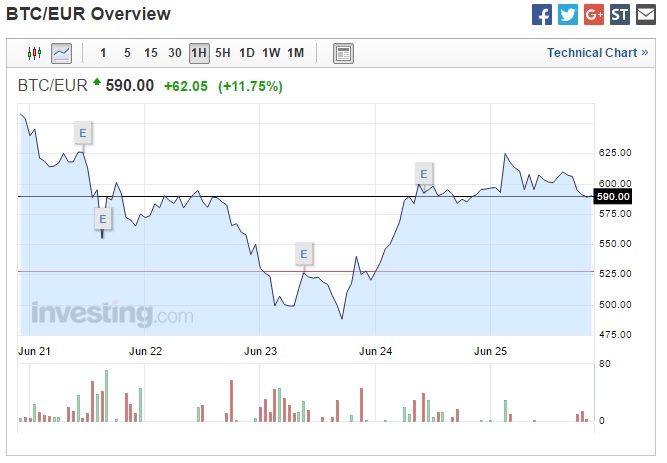 We could realise the effect is similar indicating money is going to buy BitCoins as well and BitCoin price rise. Surprisingly this virtual coin has joined the group of high confidence currencies and investments in critical situations.
But ¿Is this a temporary effect?¿What about long-term? We did a small investment on March 25th through Coinbase broker. The process for this investment is explained in the post BitCoin – Getting started.
This date we invested 10 € and we received 0.026 BTCs or 26 milibitcoins (mBTC) after commissions.

During this time we did a 1 mBTC investing receiving back 3 mBTC (This will be explained in another post) and final result is 28 mBTCs. Current value is 16.61 €.
To be honest we have to evaluate the initial 0.02610215 BTCs we initially invested. Current value for this initial investing is 15.41 € and this means we have won more than 50% in these three months. Following chart shows evolution during these months.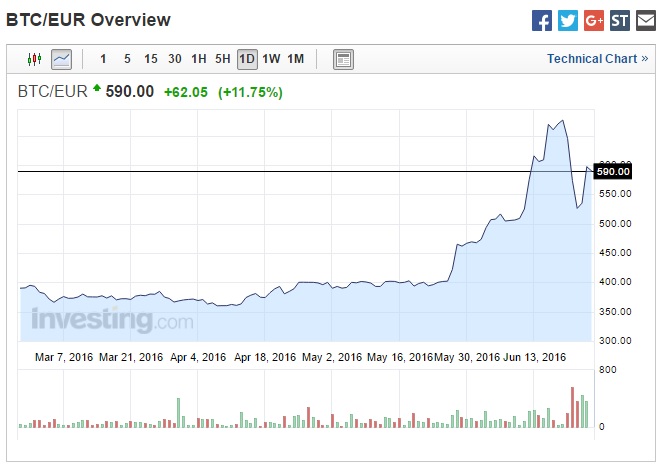 BitCoin value has remain stable until May when a strong rise has been. We shouldn't say this strong rise is because the possibility first and reality afterwards of Brexit. That we could affirm is there is no negative effect at all.
Anyway, before investing all our money in BitCoins, we should consider the following two points.
BitCoin is a currency, virtual, but a currency. It is necessary to understand how currency market works before investing. Additionally, compared with any other currency, changes are bigger. It allows higher profits but higher loses as well. BitCoin not always rise.
There is neither organisation or government supporting it. If there is a problem and our investment disappear there is no place to complaint. In the past the accounts of some brokers disappeared and these brokers went bankrupt.
Same than any other investment our recommendation is to use brokers located in countries where there are some guaranties and diversify our investment: never invest all our money in the same product.