DO is the necessary tool in IFTTT environment. IFTTT (If This Then That) execute the action (That) when a specific condition (This) is done. But, sometime, we want to execute an action immediately not depending on any condition.

DO tool provide us the capacity to execute an action, like selecting our home temperature or switching on/off a light, immediately from our Smartphone. In this post we will show an example about how to select our home temperature to several predefined temperatures.We will start from previous posts in this blog:
American Wifi Thermostat installation
American Wifi Thermostat installation – air conditioning
These two posts describe installation and configuration of a Honeywell Wifi thermostat. Additionally:
IFTTT – Easy Internet of the Things
Describes using IFTTT environment for managing this thermostat automatically depending on specific conditions.
DO is an independent application in our Smartphone but it is part of IFTTT environment and we should use the same IFTTT user for both IFTTT and DO applications. Using different IFTTT users generates unpredicted results.
Considering this point we will install DO application in our Smartphone. Looking for "do" it is the first one in the list.
If we have IFTTT application already installed DO will find this user and it won't request it to us. Otherwise DO application will request IFTTT user. As mentioned before we strongly recommend not trying to use different users.
Action configuration could be done both in our Smartphone or using Web browser in IFTTT web pages. Recommended option is through our Smartphone. Web configuration is not easy and only recommended for modifications.
Starting with Smartphone configuration
Best way to select "channels"and look for our device channel. In our case "Honeywell Total Connect Comfort".
We select "Create a New Recipe" to create a new action and "Set Temperature to a permanent hold" because our action will be setting thermostat temperature to 30 celsius degrees.
We consider connection between IFTTT and Honeywell already done when IFTTT application was installed. Otherwise Honeywell user and password will be requested in order to establish this connection. We choose our thermostat and the action will be setting 30 celsius degrees in air conditioning mode. We select "Add" to finish configuration and creating the new action (recipe).
We should remember both IFTTT and DO applications only change temperature but no working mode. In order to switch off air conditioning we should select a high temperature. It is no possible to change between cool, hot, switched off.
We will repeat the same steps to create a new action (recipe) in order to set 26 celsius degrees. Once configuration is finished we could select fastly between 26 degrees (normal temperature) and 30 degrees (temperature when we are outside).
Moving our finger in the screen we could move very fast between these two actions. Pressing the red circle will execute the action.
Web configuration is not recommended to create a new recipe as "Honeywell Total Connect Comfort" only shows IFTTT ones. Once configuration is created in our Smartphone web interface is useful for editing or revising it.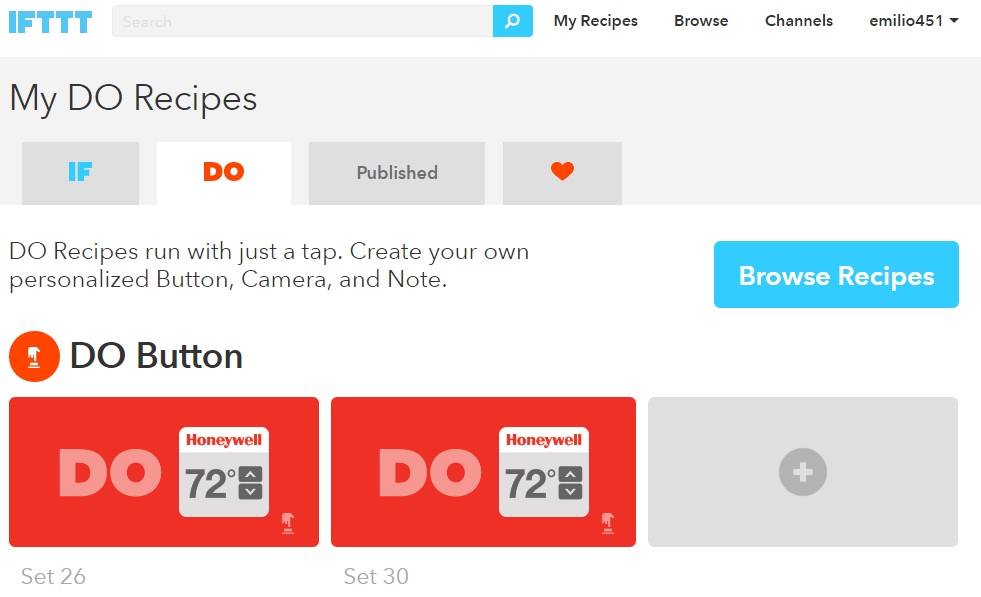 We expect this post useful for you. In case of any doubt or question don't hesitate to write a comment.